THE ROOM
By Harold Pinter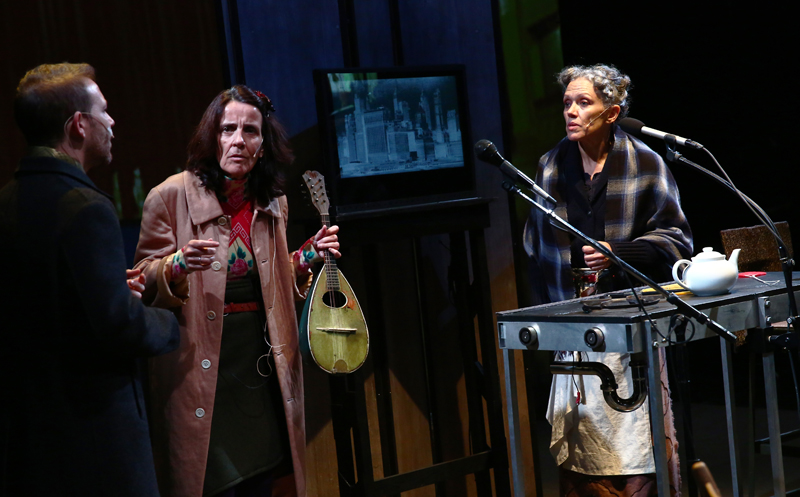 THE ROOM was Haraold Pinter's first play, written in Torquay, United Kingdom, in 1957. Our production of THE ROOM features performances by Group members & associates Ari Fliakos, Philip Moore, Scott Renderer, Suzzy Roche and Kate Valk, and is directed by Elizabeth LeCompte.

---
THE ROOM In The Press
Rivka Galchen, "New Drama" in the March 2016 issue of Harper's
Jason Grote, "What Was The Wooster Group Thinking With Pinter's 'The Room'" in American Theatre
Laura Collins-Hughes, "'The Room,' a Pinter Play That Won't Be Onstage for Long" in The New York Times
---
Production Credits
THE ROOM
By Harold Pinter

with Ari Fliakos, Philip Moore, Scott Renderer, Suzzy Roche and Kate Valk

Director: Elizabeth LeCompte
Lighting: Jennifer Tipton with Ryan Seelig
Sound: Max Bernstein, Eric Sluyter
Original Music Tracks: Omar Zubair
Sound Consultant and Additional Sound Elements: Bobby McElver
Video and Projections: Robert Wuss, Max Bernstein
Costumes: Enver Chakartash
Assistant Director: Enver Chakartash
Stage Manager: Erin Mullin
Production Manager: Bona Lee
Technical Fellow/Sound Assistant: Gareth Hobbs

Jamie Poskin (assistant director), Emily Rea (production manager), and Bill Kennedy (technical director) worked on the development of this piece in 2014 and early 2015.

Special thanks to Eric Dyer and Eleanor Bishop.

During the advance showings at The Performing Garage in 2015, the lighting board operators were Hao Bai and Megan Lang.

THE ROOM is presented by special arrangement with Samuel French, Inc.

This production is supported, in part, by: the National Endowment for the Arts Art Works program; public funds from the New York City Department of Cultural Affairs in partnership with the City Council; and the New York State Council on the Arts.






photo by Paula Court

---
Production History
2014 October 3-December 19: Rehearsals at The Performing Garage (alternating with rehearsals of CRY, TROJANS!)
2015 January 4-9: Rehearsals at The Performing Garage (open rehearsals January 8 & 9)
2015 September 3-29 & October 8-27: Rehearsals at The Performing Garage (invited open rehearsal for press October 21)
2015 October 28-November 21: Advance showings at The Performing Garage
2016 February 4-14: Performances of THE ROOM at REDCAT, Los Angeles, California