THE EMPEROR JONES DVD

Created from The Wooster Group's production of THE EMPEROR JONES by Eugene O'Neill and directed by Elizabeth LeCompte, this video re-conception by Christopher Kondek and LeCompte features performances by the OBIE-winning Kate Valk as the Emperor Jones, and Willem Dafoe, with original music by David Linton.

Bonus Material:
• Archival recordings of two live performances of THE EMPEROR JONES from
2009 with Kate Valk as Jones and Scott Shepherd and Ari Fliakos as Smithers
• Clips from the very first showings of THE EMPEROR JONES in 1992 with Willem
Dafoe as Smithers

"...an explosive, beat-driven, in-your-face confrontation..."
—The New York Times on THE EMPEROR JONES DVD

Price $350.00
To purchase by check, contact us »

Watch an excerpt from the DVD: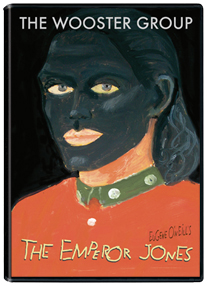 ---
Pick any two DVDs and save up to $200. (After you buy we'll email you to see which two DVDs you'd like us to send.) Or, purchase the five-DVD box set and save $650.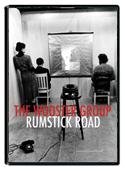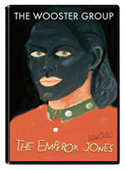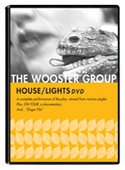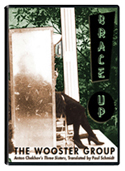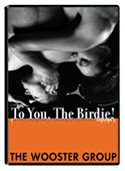 Pick 2, Any 2!
Price: $600.00
Box Set
Regular price: $1,900.00
Price: $1,250.00
To purchase by check, contact us »
---
The Wooster Group - THE EMPEROR JONES
A video re-conception by Christopher Kondek and Elizabeth LeCompte created from The Wooster Group's production of the play by Eugene O'Neill; Cast: Kate Valk, Willem Dafoe; Music: David Linton; Sound editor: Dan Dobson; Sound recordists James 'J.J.' Johnson, John Collins; Script supervisor: Clay Hapaz; Titles: Philip Bussmann; Production administration: Kim Whitener

Bonus Material
Three archival recordings of THE EMPEROR JONES from 2009 and 1992; Cast: Kate Valk, Scott Shepherd (2009), Ari Fliakos (2009), Willem Dafoe (1992)

DVD Production
Clay Hapaz, Elizabeth LeCompte; Packaging design: Clay Hapaz; Cover painting: Alex Katz

THE EMPEROR JONES DVD © The Wooster Group, 2009

Video length: 40 minutes
Total material: 160 minutes
1 disc