PLEASE KEEP OUR ART EDUCATION PROGRAMS FOR NEW YORK CITY PUBLIC SCHOOL STUDENTS GOING STRONG! MAKE A DONATION NOW »
In-school residency at MS 131/Dr. Sun Yat Sen Middle School in Chinatown
This spring, I and my fellow Wooster Group artists will be returning to English teacher Holly Obernauer's classroom for the 21st year. We'll be working with two six grade classes on cinematic excerpts from Romeo and Juliet. Students will work with Wooster Group methods of copying, channeling, and translating from an original source. This semester culminates in a presentation that will comibine live performance and video, giving the students a performative experience of their curriculum.


The Summer Institute at The Performing Garage
This three-week program offers teen NYC public school students a performance intensive with Wooster Group company members and associates.

We do not teach, but place ourselves – as mentors with the students – in the hands of guest artists and teachers who are experts in disciplines that intrigue us. Over the years, this has included stage combat, creative writing, boxing, belly dancing, and cinema story-boarding. This summer, Institute director Ariana Smart Truman has chosen to focus on collaboration with sound, video, and lighting designers, as we respond to the classic film of teen angst, Rebel Without a Cause.

Many of the students would not be able to participate if this program was not available free of charge (lunch and metro cards are also provided).

Please help us this summer with a donation of any amount.

And join us for the free public showings on August 3 at 3 pm, and August 4 & 5 at 7 pm.


BOTH PROGRAMS ARE MADE POSSIBLE ONLY WITH YOUR HELP!

Thank you,


Kate Valk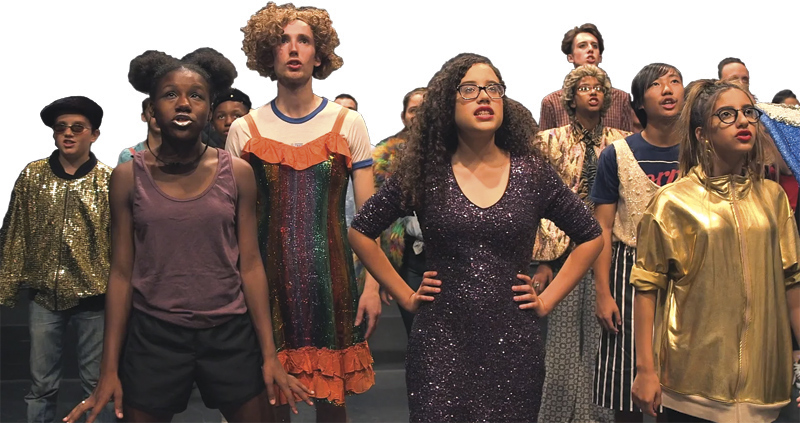 To contribute by mail
Please send a check or money order payable to "The Wooster Group" to:

The Wooster Group
PO Box 654, Canal Street Station
New York, NY 10013

The Wooster Group is a 501(c)(3) organization.